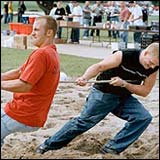 Being involved is one of the more important aspects of your college education. Through involvement, you are likely to meet people who share similar interests. Involvement also enables you to mature personally, socially, intellectually, and spiritually. Giving your time and talents to an organization will not only help that group, it will make your college experience a valuable and enjoyable one.





• Participate in co-ed intramural activities at NCC which include flag football, basketball, volleyball, and bowling.

• Join one of the many clubs or organizations on campus, including Student Government, SkillsUSA, Phi Theta Kappa, Campus Crusade for Christ, The Collegian staff & more!
• Numerous discounts on recreational facilities in the area, such as the Courtyard Fitness Center, movie theatres, golf courses and more!

• The Student Government Association plans fall and spring days of entertainment and interclass competition and provides an opportunity for you to be active in legislative issues and attend the College Legislative Forum in Des Moines each year.

• A large screen TV and game room are available on campus