Check here for all Emergency and Weather related announcements and details.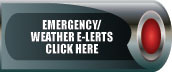 Directions for Signing up

To sign up, Click Here
Register for Rave Alert
---------------------------------------------------------------------------------------------------------------------
1. Click Here

2. Select Join Now.
Note: You may be prompted to enter your school ID credentials after selecting Join Now. If so,
enter those credentials and continue with the registration process.

3. Enter Account Information. Select Next.
- Registration email
- Password
- First name and last name
- Mobile number
- Preferred Email (alternate address where you would like to receive alerts)

4. Confirm your carrier. If the incorrect carrier is displayed choose your carrier from the
dropdown list. Select Next.

5. A confirmation email will be sent to your school email address. Go to your school email
inbox. Click on the link in your school email to continue the registration process.

6. A 4-digit confirmation code is sent to your mobile phone via text message! Enter 4-digit
code on the Confirm Mobile Number page. Select Finish.

7. Carefully read Terms and Conditions. Select checkbox reading: I have read and agree to
Rave Terms and Conditions. Select Submit.

You are now registered for Rave Alerts! If you experience any difficulties with this procedure, please let the IT department know and we will help get you signed up. If you need to edit your phone number or e-mail after signing up, email your changes to helptrac@nwicc.edu with IT in the subject line or call 712-324-5061 and ask the operator to enter a request on your behalf.